Yin and Yang in the bathroom
Bathroom in black and white featuring clean lines and purist elegance
A black and white bathroom exudes a sense of purist elegance. The dual colour concept creates excitement but is soothing at the same time. The interior combines linear precision with gently curved shapes, emphasising the interplay of contrasts. Sensuous mixers in white and chrome take up the design theme and offer innovative functionality for contemporary water indulgence.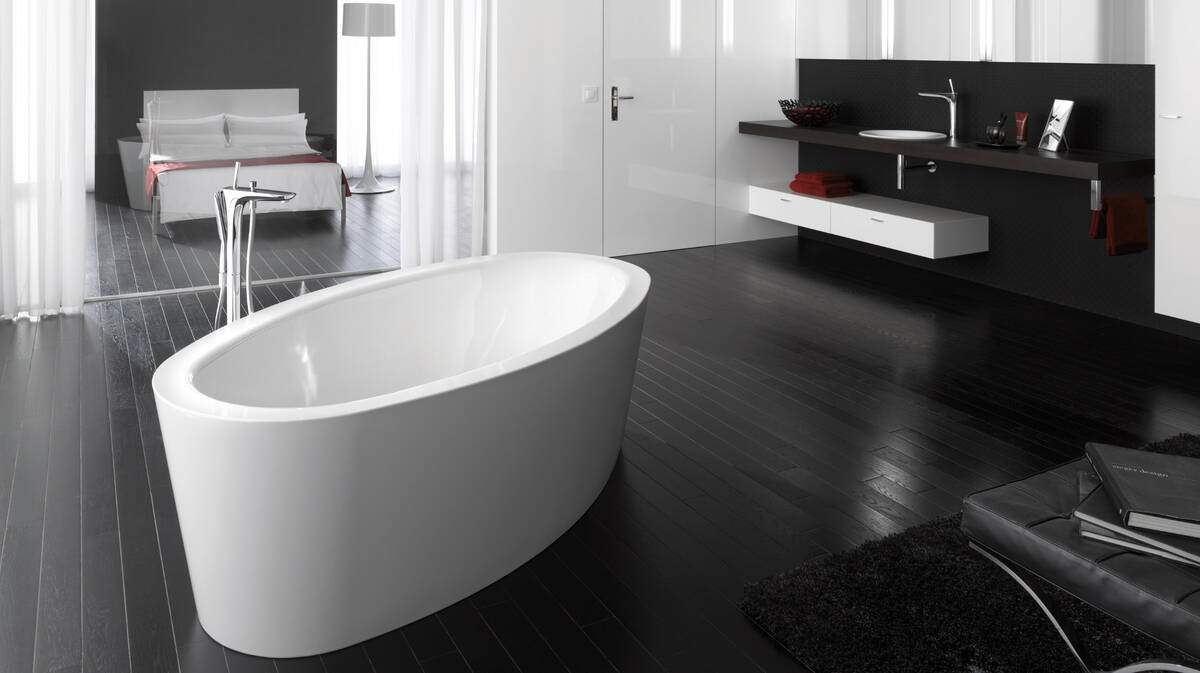 +1
Everything on the wishlist
Noted on wishlist
Saved for 30 days in wishlistSee wishlist
The product could not be saved.
Please try again.
Bathroom featuring elegant contrasts
Bathroom featuring black-and-white furnishings and a purist design
Are you planning a modern new build or a high-quality renovation, and are you fascinated by the harmonious equilibrium of the contrasts? Opt for a dual colour concept, and design a black and white bathroom. An interior in the purist style fits in with the clear ambience. The exciting contrast between precise contours and smoothly rounded shapes supports the colour polarity. A free-standing bath tub in the centre of the room is perfectly accentuated by the dark floorboards. Its radiant white surface promises tactile enjoyment, and its slightly curved shape invites you to relax and enjoy the water. At the washbasin, black and white bathroom furnishings form an elegant ensemble. The line between functional bathroom decor and exclusive furnishings becomes blurred. A seating area with black leather armchairs and the free transition to the bedroom, which is also designed in black and white, emphasise the room's homely character.   
Linear design and innovative functionality guarantee contemporary water indulgence 
With their
sensuous shapes
, the mixers from the
hansgrohe PuraVida range
 emphasise the dual aesthetics of a bathroom in black and white. The slender, floor-standing bath mixer is an elegant eye-catcher in the centre of the room. The exclusive shapes contain innovative technologies: offering added comfort when enjoying water and the opportunity to be more responsible when using resources.
Authorised dealers
Locate showrooms of authorised dealers near you
hansgrohe Loading showroom data
An error occurred. Please reload the page.
Your search covers: Singapore, Brunei, Cambodia, Hong Kong, Indonesia, Laos, Malaysia, Philippines, South Korea, Taiwan, Thailand and Vietnam