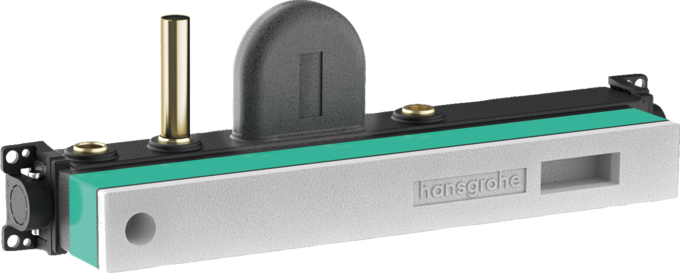 RainSelect
Basic set for 2 functions bath tub
Select variant (5)

RainSelect
Thermostat for concealed installation for 2 functions
Select variant (16)
Enjoy perfect control of your showers
Switch to the highest standards: designer thermostatic shower mixers that are easy to use
When you have technology that is invisible, design that is perfectly integrated into the wall and impressive usability, we call this RainSelect. With this innovative designer thermostatic shower mixers for sophisticated showering indulgence, you are moving into uncharted territory in the bathroom. The slimline silhouette, high-quality surface finishes and formal elegance give RainSelect a space-structuring character. The innovative Select technology offers a new kind of user experience: Use the large, 70 by 70 mm operating buttons to control up to five water sources intuitively, at the touch of a button. Satisfy your design requirements with three different surface finishes: in white, black and chrome.
Conveniently control two to five water sources when showering
With two to five buttons, RainSelect offers the scope of operating functions required for a shower system to be able to satisfy your individual needs. Use two buttons to control a single-jet overhead shower and a hand shower. RainSelect with five functions is recommended if you want a multi-jet overhead shower, plus hand and side showers. RainSelect can, therefore, be ideally combined with Rainmaker Select overhead showers. hansgrohe also has a solution for bathing in comfort: RainSelect for the bathtub controls hand shower and bath filler.
Functions combined, operation made simple: thanks to Select and clear symbols
With our high-quality design thermostat, you find everything you need in one product: as well as the Select push buttons for the various shower functions, you can control the water volume and temperature using two elegant rotary controls. A metal bracket for the hand shower and a hose connection are also integrated. Thanks to clear, easy-to-understand symbols, you can start enjoying showers on impulse. The buttons are printed on the back, and the symbols are abrasion-proof. This guarantees that your thermostatic shower mixer will look good for a long time. Other features include high-quality materials like metal or glass and reliable mechanisms which guarantee durable function. To ensure that nothing goes wrong while cleaning, simply shut off the flow of water using the separate shut-off function.
hansgrohe RainSelect: sophisticated concealed installation that takes care of everything
To ensure that so many comfort features fit behind the wall, choose the compatible basic set for your RainSelect control system. This is where the various water sources and functions are reliably managed. RainSelect basic sets are installed on all common standard connections. They are watertight, insulated and soundproof. Recommendation: bring in an expert for the installation of the high-quality design thermostat.
HGHBWMediaGalleryImageElementComponentModel (8802753741884@3)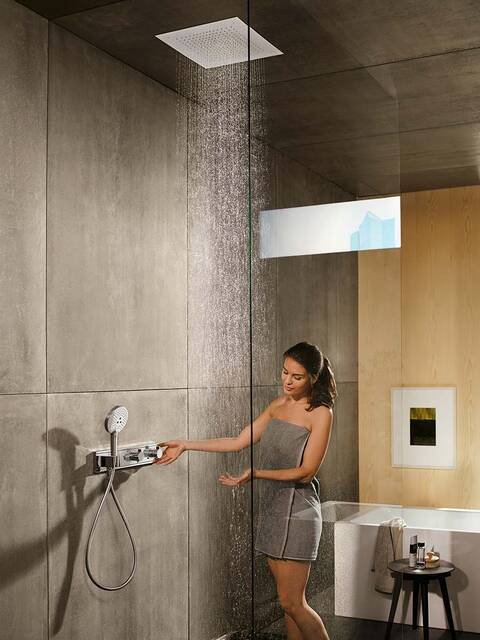 HGHBWMediaGalleryImageElementComponentModel (8802753905724@2)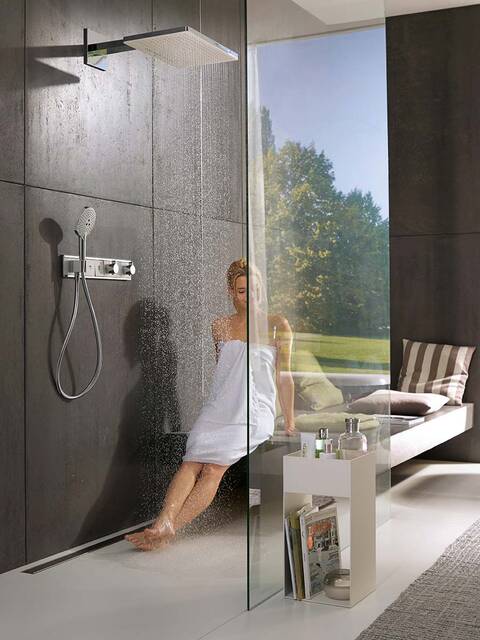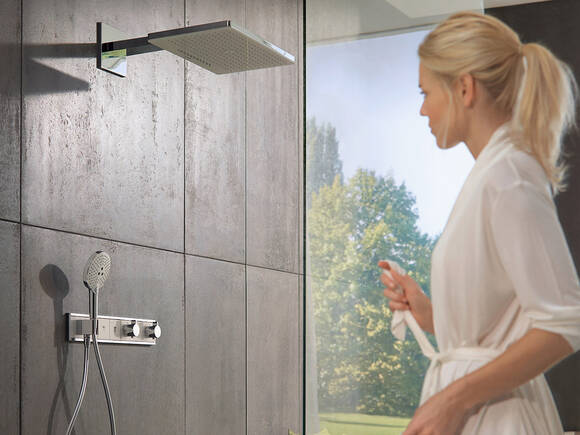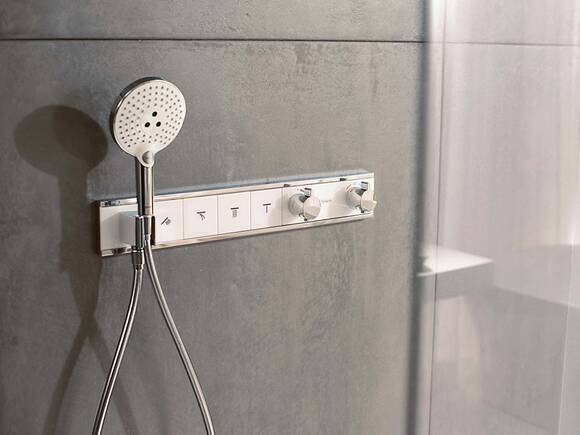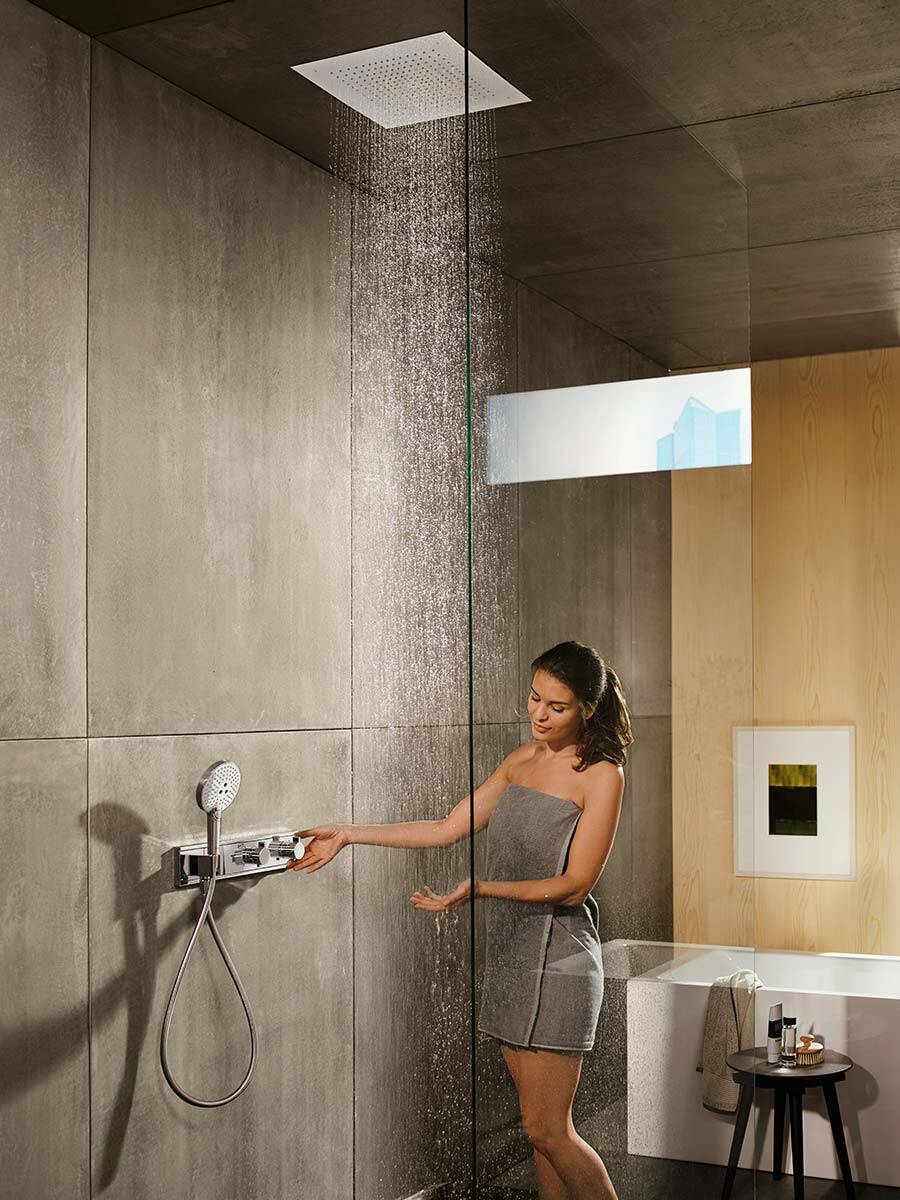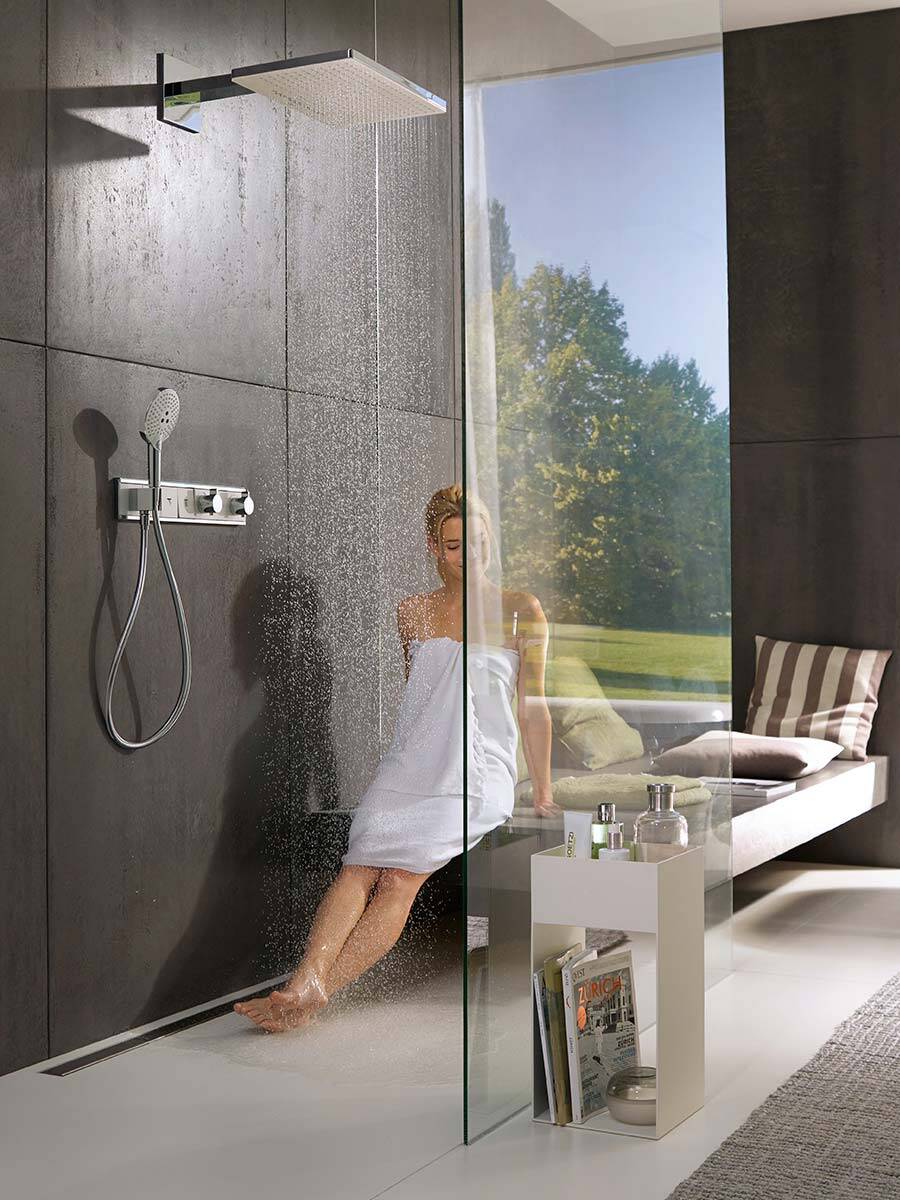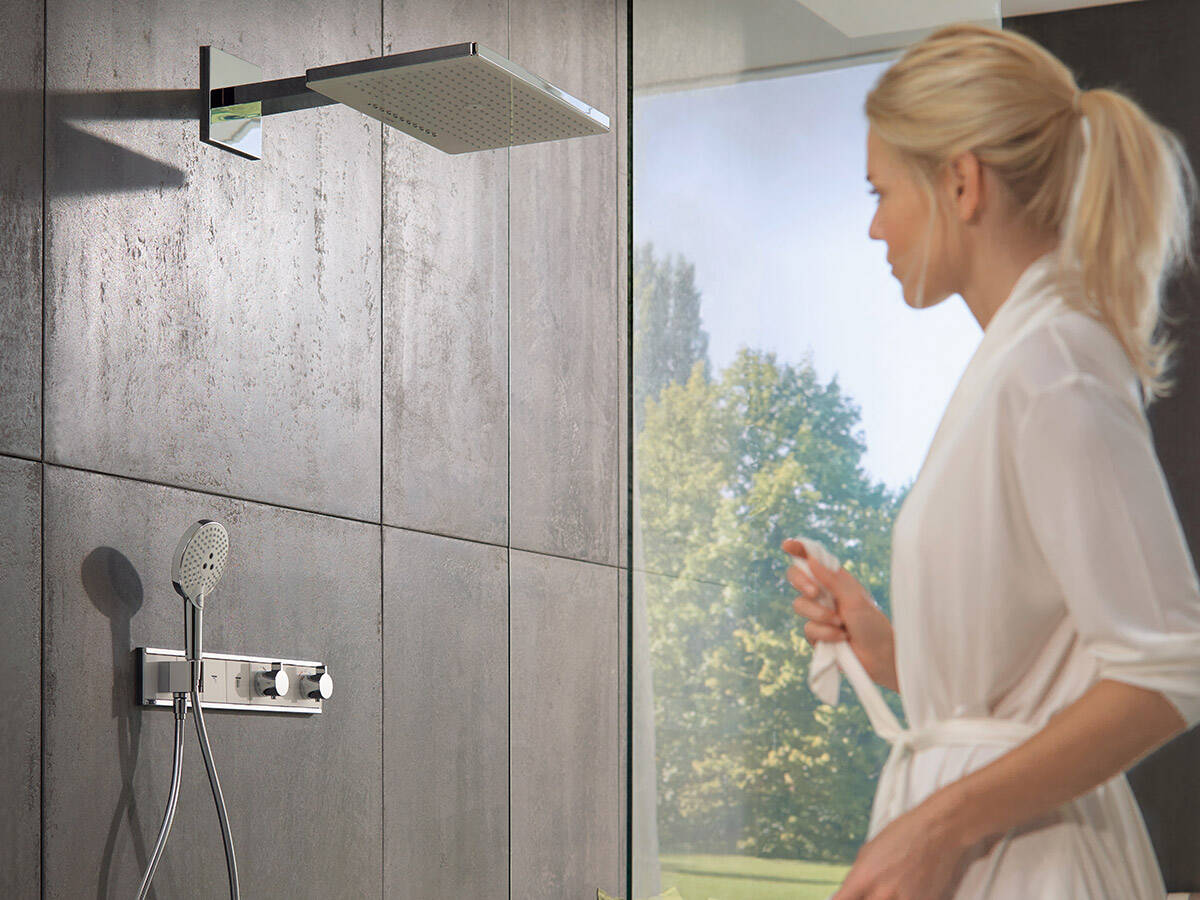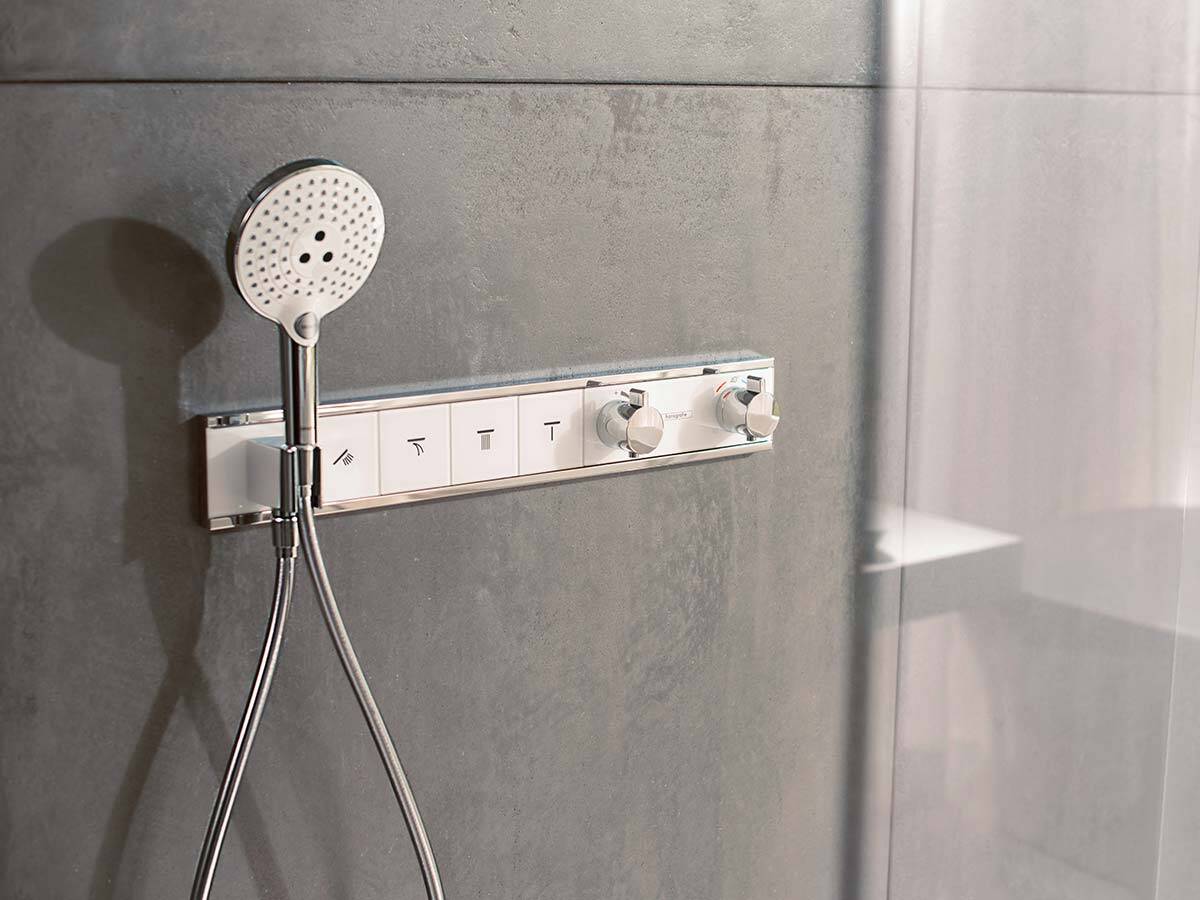 Authorised dealers
Locate showrooms of authorised dealers near you
hansgrohe Loading showroom data
An error occurred. Please reload the page.
Your search covers: Singapore, Brunei, Cambodia, Hong Kong, Indonesia, Laos, Malaysia, Philippines, South Korea, Taiwan, Thailand and Vietnam