Just like a tropical paradise
Infinite comfort in a nature-inspired bathroom with a floor-level shower
A modern bathroom with a rain shower and nature-inspired, spacious room design: here, the opulence of the water-rich tropics becomes a day-to-day reality. The open architecture removes any limitations, and offers plenty of scope for your range of spa features. The main focus is the shower system. This is versatile, space-structuring and a source of pure water indulgence.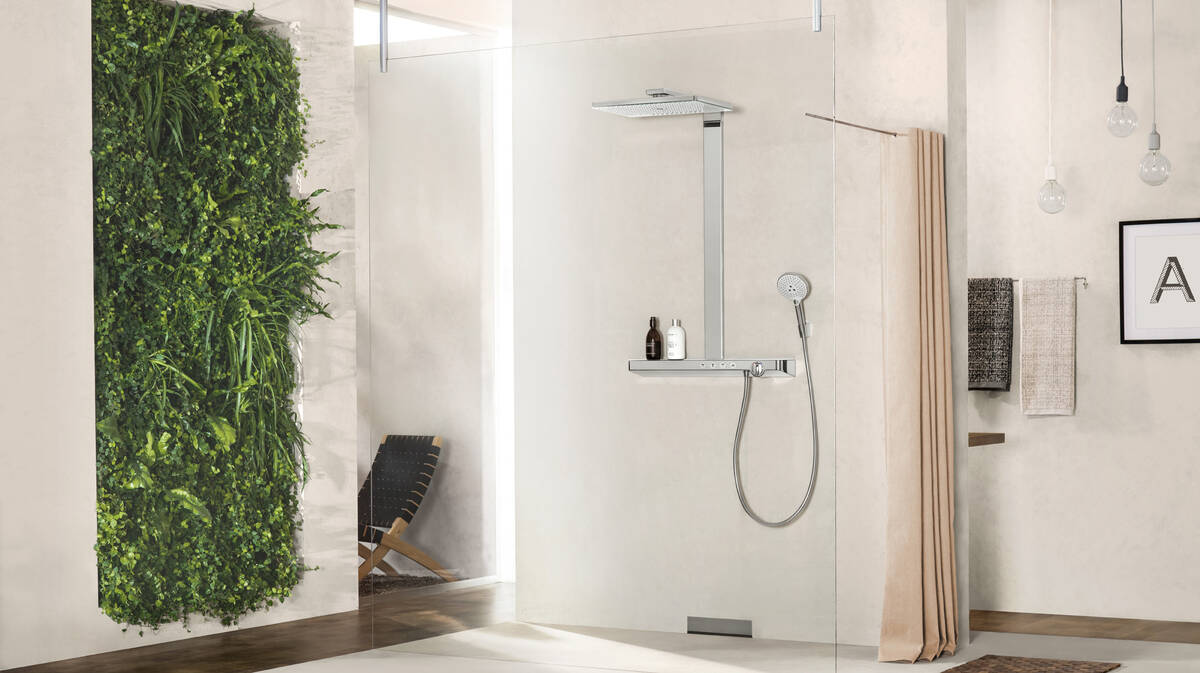 The opulence of the tropics in a large bathroom
Ample room to move around in a modern bathroom with a floor-level rain shower
Would you like a large bathroom that also functions as a nature-inspired living space, where you can go to escape from everyday stresses? Treat yourself to some relaxation, and enjoy water in abundance in a modern bathroom equipped with a rain shower. Use an open-plan design to create space for a spa-like retreat that offers plenty of variety. Foliage plants create a nature-oriented ambience, and a chill-out zone with seating facilities is ideal for relaxing. Expansive fields of view direct one's gaze into the spacious room. A floor-level shower also removes any restrictions on freedom of movement. A versatile shower system forms a space-structuring focal point, attracting you with its lavish water indulgence.
Sensuous water indulgence with the comfort of a large shower system
A rain shower highlights the vibrant aura of nature-inspired bathroom design. As central elements in an open-plan concept, the shower systems from hansgrohe add structuring accents. The Rainmaker Select showerpipe is one of the rain showers that guarantees ergonomic comfort and enables you to enjoy water in a variety of ways, thanks to its smart technology. Whether it's in a new or renovated bathroom. Thanks to its spray disc with a white background, the overhead shower integrates seamlessly into the ambience. Combined with the slender chrome frame, the design appears elegant and light-weight.
Authorised dealers
Locate showrooms of authorised dealers near you
hansgrohe Loading showroom data
An error occurred. Please reload the page.
Your search covers: Singapore, Brunei, Cambodia, Hong Kong, Indonesia, Laos, Malaysia, Philippines, South Korea, Taiwan, Thailand and Vietnam